Webinar: Introducing the 2020 Presidential Hackathon Innovation Challenge
A webinar to introduce the 2020 Presidential Hackathon innovation challenge, how you can participate, and what's in it for you!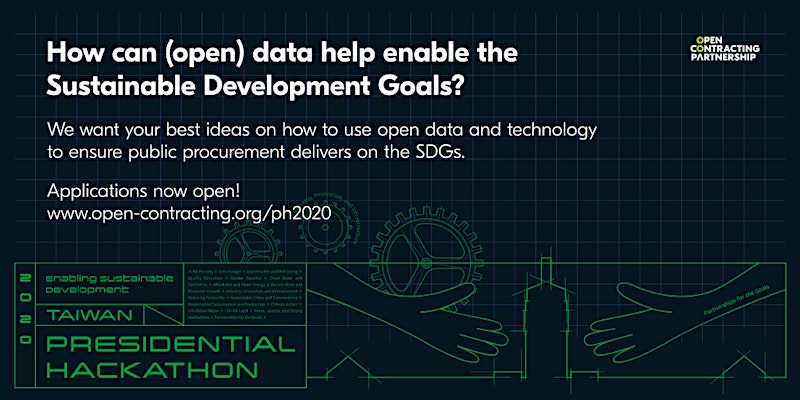 The Presidential Hackathon is an exciting innovation challenge by the Open Contracting Partnership and the Taiwanese government aimed at catalyzing open data tools and solutions to help ensure public procurement delivers on the Sustainable Development Goals (SDGs). Now, more than ever we need innovative, data-driven solutions that can help respond to some of the critical issues needed to enable sustainable development – from health to infrastructure. We challenge teams to generate and, analyze open data, or prototype new or better open data tools for the SDGs.
We are hosting this webinar to formally introduce the Hackathon (what it is about and how it works, how to apply and what you can expect) and how open contracting can help you answer the Hackathon Challenge question! (Note that this webinar was first delivered on the 30th April and we are repeating the session for those who were unable to join the first event).
We will also include an interactive Q&A session so you may find it helpful to check out the Presidential Hackathon 2020 page and application form ahead of time. We are always on the lookout for great ideas and projects that can transform government and governance so join us on this webinar and learn how we can do this together!