Back to latest
All eyes on the data: How Nigeria's Dataphyte monitored $120 million worth of government projects using an open contracting approach
Public contracting in Nigeria has been plagued by corruption. This by itself is troubling, but the greater impact is how it denies citizens access to essential infrastructure and services such as schools, healthcare, water, and electricity.
The lack of usable data on contracts awarded to implement projects has made it difficult to monitor and evaluate the contracting process and ensure the timely delivery of the projects.
Access to contracting data is now improving as Nigeria's subnational governments are committing to increase budget and contract transparency under the Open Government Partnership.
But open data and transparency are only one layer of accountability. The full benefit of open government can only be achieved when citizens and civil society organizations can understand, interrogate and report their findings to call public officials to account.
To tackle this issue, our organization Dataphyte's data for development program, the Interactive Initiative for Social Impact, is working to build and sustain a community of practice for monitoring and reporting on procurement processes at the subnational level. Our first goal is to empower stakeholders like the media, civil society actors and change agents with the necessary skills and support to understand and use contract data to demand transparency and accountability on public procurement. This way, we can facilitate a dialogue between the supply and demand side of accountability (that is, those who are publishing contracting data and those who use it). In turn, we believe such efforts by the media and civil society will enable the public to better understand public procurement and engage with their government and its agencies to deliver on development promises. In the long term, we hope that citizens are more empowered to make informed decisions in choosing their leaders.
Open Contracting Partnership's financial support allowed us to expand the frontiers of this work, and we have monitored about 60 procurement projects on health, education, water and electricity worth N50 billion (US$120 million) across three states: Ebonyi, Edo, and Jigawa.
Here's an example of how this approach is making a difference. In April, teachers at Uwana Comprehensive Secondary School in Ebonyi State finally got new housing, after a Dataphyte investigation revealed irregularities in a number of building projects related to teachers' quarters across the state. Prior to the investigation, construction at the Uwana School site had ground to a halt for months, and drawing attention to the issue provided a catalyst to restart and finally finish the work. The investigation relied heavily on public contracting data obtained from the Ebonyi State Open Data Portal. It showed the state government had released N20.108 million (around US$50 million) for 40 teachers' quarters projects since September 2020. Dataphyte examined a sample of the projects in detail, visiting the sites, conducting interviews and gathering evidence from other sources to check the status of the projects more than a year after the money was released. Our findings, and the subsequent completion of the Uwana School project, is a testament to the power of using open contracting data to demand accountability for public funds.
Capacity building: where to find the data and how to use it
Among the many lessons we learnt during the execution of this project, the importance of building capacity first was one that stood out. The project completed 3 workshops in Edo, Ebonyi and Jigawa state. Through two-day workshops, we gathered 60 civic actors, a third each were journalists, civil society organizations (CSOs) and community based organizations (CBOs). We focused on improving their capacity to understand where to find data in their state's OCDS and e-procurement portals, analyze the data and mobilize sub-national contract data for effective service delivery in Nigeria. We discussed how to track/investigate public projects for service delivery and the tools for effectively communicating open contracting data.
In all three states, the participants drawn from the media and civil society had little to no understanding of open contracting and how it interfaces with their work of demanding accountability and facilitating conversations between the public and its government. There was also a lack of basic knowledge of making sense from data and connecting the dots between effective service delivery and open contracting data.
This makes capacity building both a short and long term objective for programs designed around open contracting, including techniques such as data mining, data analysis, data visualization, data storytelling/reporting, as well as the principles and practice of open contracting.
Grace Ese Obakina, a public procurement activist in Edo State said after the training that she was optimistic for real-time improvements in the project delivery in Edo state. «Our exposure to open contracting data by Dataphyte and the training on how to use the datasets to demand transparency and accountability of public funds is an eye-opener for us on how to hold the government accountable in the state," she said.
Capacity building is not limited to the demand side of open contracting but the supply side as well, especially the agencies that are directly involved with the gathering and upload of data on the portals.
Working together to achieve more
Another important lesson we learnt is the power of collaboration. Where it is difficult for Dataphyte and its staff to track multiple projects across multiple states in a short period of time, collaborating with stakeholders in those states made it possible. This level of collaboration further expands and strengthens the public contracting watchdog community. This community should not be an exclusive club for a few but rather a community that must continue to grow until everyone can demand accountability.
This collaboration must also extend to the supply side of accountability. The ability of journalists to hold governments accountable can be limited, especially when government officials are wary of disclosing information that would hold them accountable for fear of being exposed as corrupt. Civil society actors can facilitate the collaboration and dialogue, advocating among all stakeholders with the clear goal of effective service delivery for sustainable development.
One instance of this collaboration on the supply side is the project by Godwin Arua, the Executive Director of Children and Media Education in Ebonyi state.
His project was around education-related public contracts and he admitted that after the training and subsequent conversations between all stakeholders, a collaboration between journalists, CSOs, and the Bureau of Public Procurement (BPP) made tracking the project easier and more fruitful. He said that learning how to report findings using a people-facing narrative aids dialogues.
Arua described how his organization investigated a primary school in the state capital where students lacked access to chairs. «After my investigation, I forwarded the results of our project tracking and monitoring to the Governor's office and the Governor's Senior Special Assistant for further action, but we received no response.» After working with Dataphyte, he says he now knows where to send the evidence to encourage authorities to take necessary action.
Open contracting and beneficial ownership belong together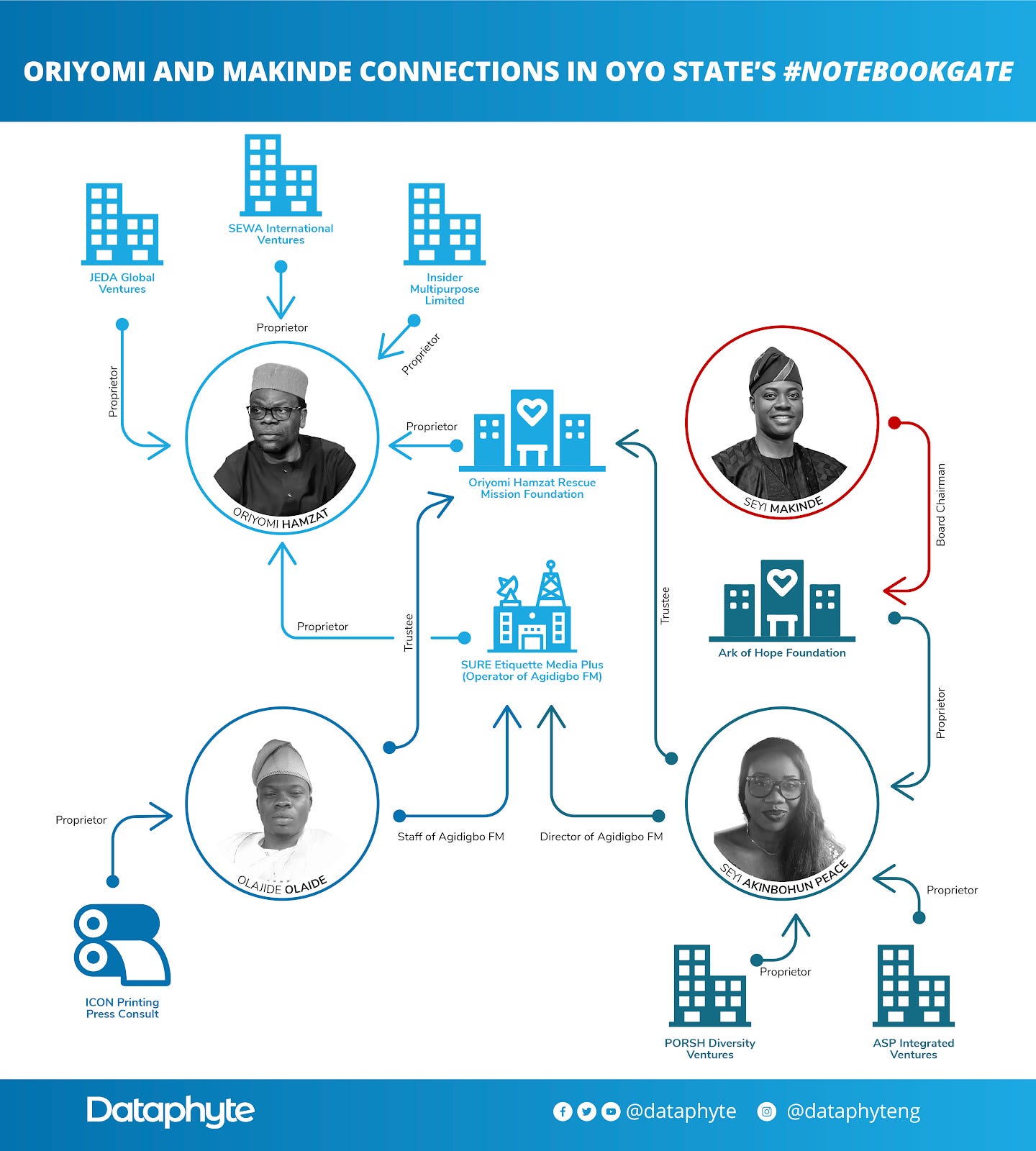 One final lesson is in the value of connecting open contracting and beneficial ownership data. Combined, these two datasets have the potential to more effectively detect irregularities in procurement practices and fight corruption in Nigeria. For example, an investigation by Dataphyte's Olanrewaju Oyedeji found irregularities in the award of a N998m (US$2.4m) project to purchase secondary school exercise books in Oyo State. The price of the materials was 10 times more than expected. Using the state's open contracting data, they revealed three of the four contractors were owned by the same person. But the case has a twist: in a follow up to the story, evidence shared to refute the claims surfaced information on other companies awarded contracts with ties to the governor's associates.
Looking out for these connections between irregularities in procurement practices and beneficial ownership and reporting them will strengthen evidence-based advocacy around the adoption of open contracting and beneficial ownership registers. It also spotlights patronage as a major hindrance to delivering development outcomes to the public who need them most.
On our part, Dataphyte is committed to advancing the practice of using open contracting data to demand accountability. Our hope is that as the practice expands, advocacy for more up-to-date data is strengthened and governments, from the central to the sub-national, are forced to proactively share data.